HANSEN'S SECRET SALSA
Our family's secret recipe is about to become your new secret weapon in the kitchen.  Its jalapeño-based, tomato-free flavor makes it one of the most versatile condiments imaginable. A lot adds a nice bit of heat, while a little still imparts a dramatic improvement in flavor making it perfect for the whole family.
Add some to your favorite main dishes, side dishes, salad dressings, dips, and even other condiments to find out just how good those things can be.  You can also eat it straight out of the jar on potato chips, breadsticks, or any other snack of your choice.  This is not your typical salsa.  It's the secret to better tasting food.  Once you've tried it, you'll wonder how you ever got by without it. Hansen's Secret Salsa:  Flavor Redefined.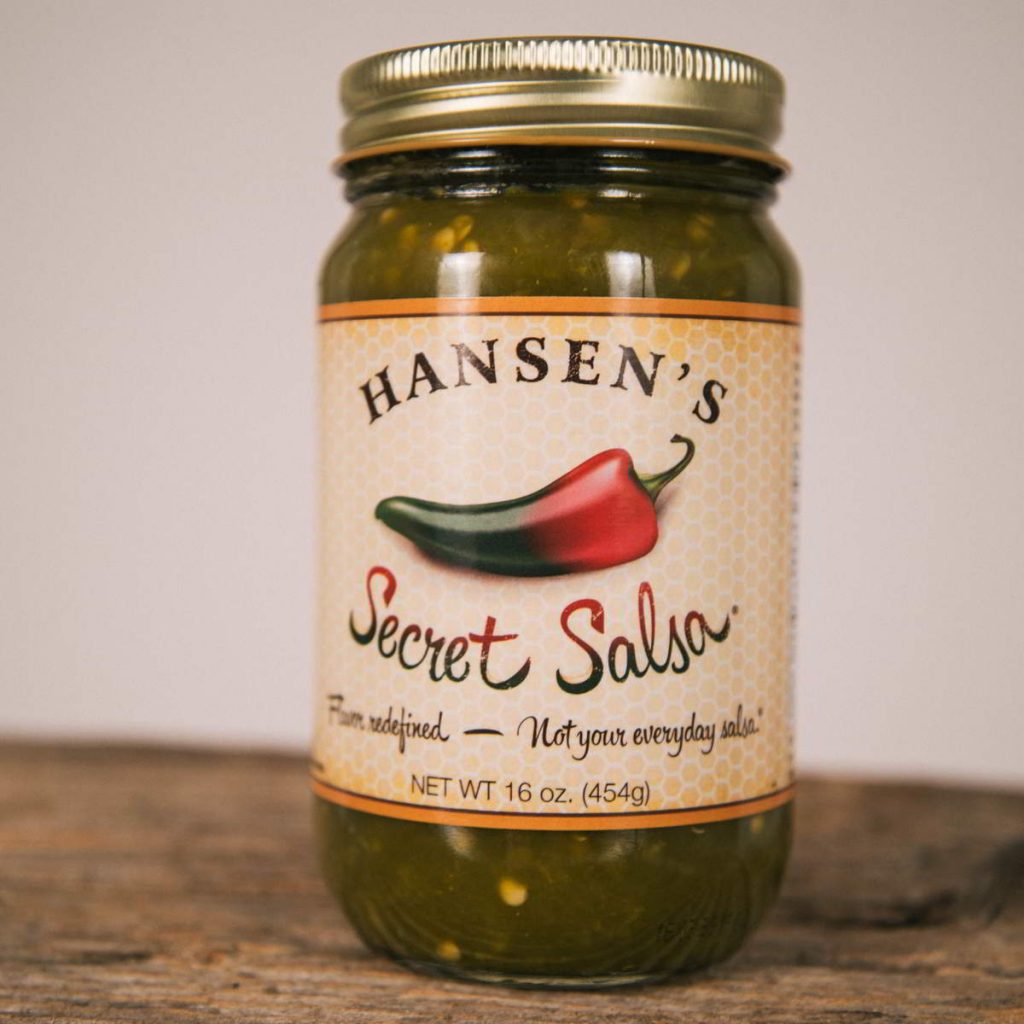 Online Orders Coming Soon!
FIND IN STORES
Holy Smokes BBQ
(Inside Castle Pines Wine & Spirits)
62 Founders Parkway, Unit J
Castle Rock, CO
(720) 507-4472
Redlaw Sauce Co.
15874 W. 6th Ave Frontage Rd.
Golden, CO
(844) 733-5297
Maggie's Gourmet
4851 Harvey Street
Muskegon, MI
(231) 799-9333
Century Club Retail Center
356 W. Western Ave.
Muskegon, MI
(231) 571-9101
Colbys Hokey Pokey
107 E. Colby Street
Whitehall, MI
(231) 894-6585
The Meat Block
2330 E. Broadway Ave.
Muskegon, MI
(231) 773-0224
Gouleese Restaurant
1635 Biedler Street
Muskegon, MI
(231) 722-2020
ENJOY IT STRAIGHT

Put it on potato chips, tortilla chips, breadsticks, eggs, pizza, sandwiches, and anything else that comes to mind!
STIR IT UP

Mix it into ranch or salad dressings, ketchup, mayonnaise, marinades, hummus, cream cheese, butter, cornbread batter, bean dip, guacamole, and even add some to diced tomatoes and onions to make a more traditional salsa.
SPRUCE IT UP

Add it to almost any main entree or side dish to take the flavor to a whole new level. Sneak a little or a lot into soups, stews, pasta sauce, ground meat dishes like burgers and meatballs, casseroles, crockpot concoctions, mashed potatoes, deviled eggs, and other family favorites.
About Hansen's Secret Salsa
How spicy is Hansen's Secret Salsa?
2017-02-17T18:20:00+00:00
To an extent, that can actually vary from jar to jar. Unlike most salsas, fresh jalapeño peppers are our primary ingredient; and different crops of jalapeños can range in heat from quite mild to pretty HOT. While we aim to provide as much consistency as possible, some batches naturally pack more heat than others. All jars have the same great flavor, though, and the heat can be adjusted by simply altering how much you use.
Services
Shipping Options
2017-02-18T20:48:56+00:00
* Shipping will be calculated at checkout.
* We currently offer shipping on quantities of 1-12 jars of salsa to all U.S. States, except Alaska & Hawaii, via UPS, Fed Ex, or USPS.
* We also ship quantities of 1-3 jars of salsa to Alaska, Hawaii, Puerto Rico, Guam and the U.S. Virgin Islands, via USPS Priority Mail only.
* International shipping options coming soon!
TESTIMONIALS
We Love our Customers, And They Love Us!
Hansen's Secret Salsa is more than a condiment in my home; it is dinner inspiration! Dolloped on chicken chili, spooned into fish tacos, or stirred into black bean salad, Hansen's adds just the right amount of "heat" and "sweet"!
I enjoy the subtle sweetness it has along with the heat. It is my new go to flavor. I love it on pork tacos, chicken, and chips & cheese.
  The simplicity of Hansen's Secret Salsa lends itself to so many uses. Whether used by itself or as an ingredient to add some kick to your favorite recipes, this is hard to beat. Some of my favorite uses include topping my scrambled eggs, adding heat to my bowl of soup or stew. I enjoy using it as the heat in my own salsa recipe. A few tablespoons to your favorite meatloaf recipe has been a winner in my household. Hansen's Secret Salsa has become a staple in our pantry.
Join Our Satisfied Customers!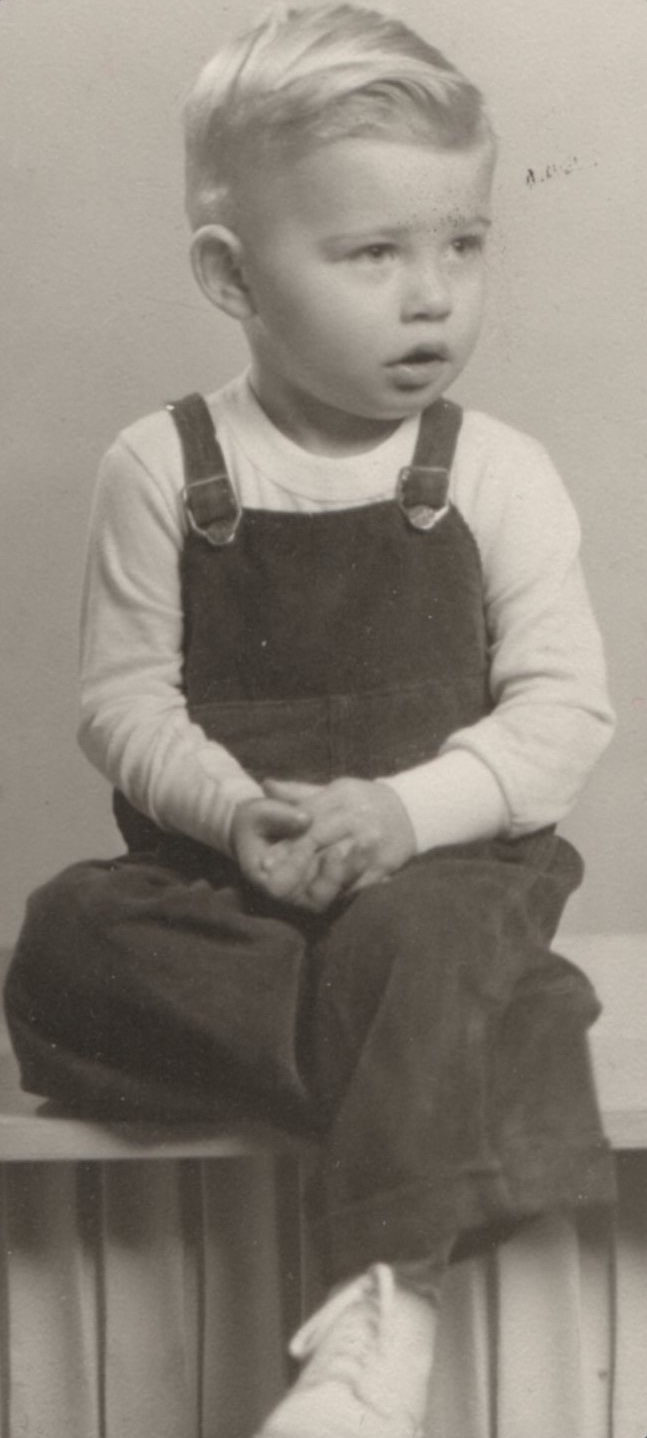 OUR STORY
Roger Hansen was born and raised in Western Michigan at a time when traditional salsas and hot sauces were not exactly a prevalent part of the local food scene. He had, however, a love for spicy foods, a great palette, and access to a lot of fresh, seasonal produce. Not finding the flavor he was looking for elsewhere, he eventually created what was to become Hansen's Secret Salsa in the mid-1970s.
For the next forty years, he made huge batches at the end of every summer, when the jalapeño peppers made their annual appearance at the local farmer's markets. His daughters, Kelly and Jennifer, grew up with this special creation and watched their dad give away jar after jar, year after year, to friends, fans, and even at times random acquaintances. Finally, knowing that so many others enjoyed the family salsa and wanting to share it with as many more people as possible, they created Hansen Family Recipes, Inc.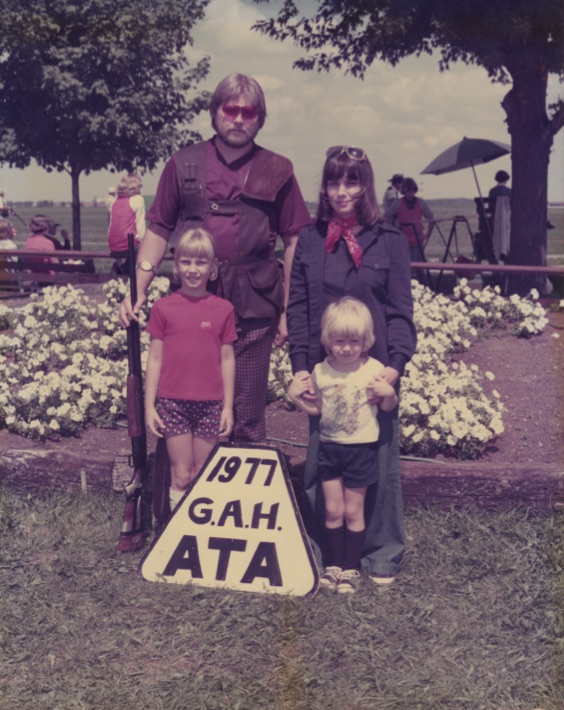 EMAIL US
CALL US
1-844-GO-SALSA
1-844-467-2572
You can reach us Mo-Fr 8:00 AM to 5:00 PM EST.
WRITE US
Hansen Family Recipes Client Services
635 Ranch Drive
Muskegon, MI 49441
Please allow up to 24 hours to receive a response to your email.
WHOLSALE INQUIRIES
info@hansenfamilyrecipes.com
RESTAURANT ORDERING
info@hansenfamilyrecipes.com